Named to Kirkus Reviews Best of 2012! Bitopia is more than a fast-paced, epic adventure. The novel, about a bullied boy who figures out the secret to stopping the bullying, helps students understand a fundamental element of bullying—fear—and how to stop dominance aggression.
From the book jacket:
When you run from bullies, you never know where you might wind up…
Bitopia is a wonderland of fantastical foliage and mysterious creatures. It's also a place where Venators lurk, vile creatures that relentlessly hunt children. So the children of Bitopia, the only human inhabitants, are forced to live in a high-walled city for protection, a medieval metropolis of cold and shadow where time passes but no one ages, a place of no escape.
Like all the other children of Bitopia, Stewart arrives there unexpectedly while fleeing from bullies. And, like all Newcomers, Stewart dreams of finding a way back home. Risking exile from the city and the protection that it offers, Stewart and Cora, his Finder, discover a clue to escaping, one that presents them with a terrible choice: face their greatest fear and risk death, or be trapped in Bitopia forever.
Reviews:
"Magnusson's debut. . . follows a young boy's flight from the wrath of bullies, taking him to another world from which there may be no escape. . . Magnusson infuses the narrative with stunning imagery that wallops the senses. . . Ample action and suspense. . . help the plot retain a steady speed. All the fun of a children's book, coupled with the razor-sharp wit and potent insight that seasoned readers crave." - Kirkus Reviews (starred review, Best of 2012)    

"[E]ngaging, with a sincere element of tension and an overall sense of wonder. . . .[I]deal for readers in need of an extra shot of courage when faced with difficult situations." -Publishers Weekly

"[An] engrossing novel for children that tackles head on the single most important element of bullying: fear. Bitopia is a compelling allegory that reveals the nature of fear and drives the reader to eagerly let go of it, an act that will deprive their bullies of their power. It should be on every school's recommended reading list." - Izzy Kalman, MS, Director of Bullies to Buddies, Inc.

"Bitopia is a fast-paced and suspense-filled adventure story about a boy who learns how to overcome his paralyzing fear of being bullied. . . Bitopia will help readers find courage to stand tall in the shadow of intimidation and as such, it can be used by parents and teachers as an effective springboard for discussion of what is a most difficult situation for all involved. I highly recommend this book." - Christopher McChesney, middle school teacher, National PASCO NSTA STEM Educator Award of 2016, Baltimore County Schools

"Kids who love fantasy will enjoy this book just for the story-the anti-bullying message is simply an added bonus." - Book Dreaming

"[A] great way to get a message across about bullying that is not too heavy-handed or preachy. . . .[M]oves along quickly and has lots of good tension and a compelling story. The characters are likable and engaging." - The Write Stuff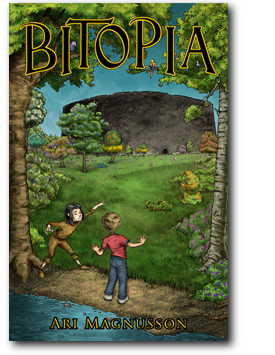 What You Can Do About Bullying by Max and Zoey
A core component of the CirclePoint Bullying Prevention Program, this guide teaches students in grades 3-6 how to prevent and stop bullying on their own or with adult help. Ostensibly written by the two title characters, the guide covers bullying basics, ways to get bullying to stop (for both targets and bystanders), what to do if you are being bullied, and how to get an adult to help the right way. The two title characters explain and demonstrate the concepts, providing students with easy-to-follow examples they can apply to their own bullying problems. The guide also contains a special section for students in grades K-2, designed to be read with an adult, which covers friendship basics and prepares students for the aggression they will face in the upper grades. The comic is designed to appeal to boys and girls and covers both dominance and relational aggression.
Reviews:
"An empowering comic book focuses on how to prevent and deal with bullying. . . Appealing, concrete, and easy-to-follow suggestions for kids--and adults--in dealing with challenging relationships." - Kirkus Reviews
"[The book] enabled me to provide such important information to my students in a way that was engaging and fun for them." - Tara Williams, MA/CAGS, School Psychologist, Woburn Public Schools
"A very well designed book to help youth learn bullying prevention strategies through a decision-making process as they go through the book." - Ming Sun, MPH, MCHES, Health Educator, Massachusetts General Hospital Community Health Associates
"This is a fantastic book. . . .Instead of a novel with a bullying theme, this is a comic style book which...[discusses] bullying and how it impacts others. . .While it is clearly written for the American education system, there is no reason why this cannot be used in schools across the world." - Miss T. David, primary school teacher, St. Joseph's Primary School, Essex, England
"If you have the privilege to traverse the instructional and eye-opening world of Bullying being exposed here, you will be  most likely 100 times more informed on the subject than  anyone you know. . . The book does an outstanding job of not criminalizing the bully. . . The book. . . will appeal to early grade children, and is presented in such a systematic way that it can almost be entitled "The Dictionary of Bullying." At the end of the book is extra information for adults and parents confronted with the bullying of those in their care, and how they can use this book in the best possible way to help them." - R.R. Howroar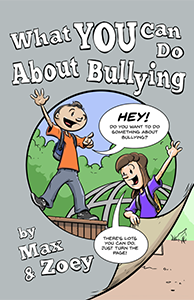 Olivander Press
84 Pages $5.99
PB ISBN: 978-0-9970221-3-1-5-7
eBook ISBN: 978-0-9970221-4-8
Buy the Book:
Amazon
CirclePoint Guide for Educators
A core component of the CirclePoint Bullying Prevention Program, this guide is for administrators, teachers, and non-teaching staff. The guide provides a program overview and an education on bullying, student empowerment, the Target Support System, classroom strategies for teachers, and the Constructive Discipline Process. Please visit circlepointprogram.org to see the guide's Table of Contents and Executive Summary on the "Materials" page.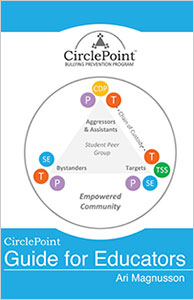 Olivander Press
128 Pages $24.95
PB ISBN: 978-0-9970221-1-7
eBook ISBN: 978-0-9970221-2-4
Buy the Book:
Amazon
Forthcoming - September 2016!
A core component of the CirclePoint Bullying Prevention Program, this guide teaches students in grades 7-12 how to prevent and stop bullying on their own or with adult help.